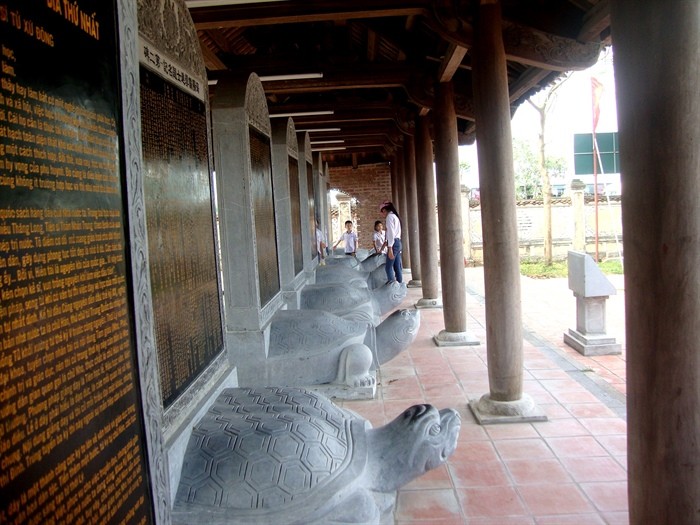 (Photo: baovanhoa.vn)
The Mao Dien Temple of Literature in Cam Dien commune, Cam Giang district, is surrounded by green rice fields in springtime, a tranquil contrast to the busy Highway 5 it sits next to.
An ancient arch leads to a moss-covered central house, a steeple, a pen tower, an ink pot statue, and a lake. The Temple was built in the 15th century as a place to conduct examinations. In the 16th century, Mao Dien became the examination site for the whole region and a training center for scholars from all over Vietnam. Hai Duong province had the first 12 doctors and 600 of Vietnam's total 3,000 Confucian laureates of the old system. It a custom for Hai Duong residents to visit Mao Dien Temple of Literature to pay tribute to the ancient sages.
A local man named Tran Van Tuan told us: "This temple, which honors great scholars, attracts pilgrims from Hai Duong and other nearby localities. Hai Duong people are proud of their learning tradition. My family comes to Mao Dien at the beginning of each year to inspire in the children a passion for learning."
With a scale second only to Hanoi's Temple of Literature, the 36,000-square-meter complex has an architecture similar to Vietnam's pagodas and temples. Its two storeys and eight roofs are made of ironwood. The rear chamber is a place to worship Confucius and national sages, such as the great physician Tue Tinh, the Confucian teacher Chu Van An, scholar Mac Dinh Chi, and Nguyen Thi Due – the first female doctor of Vietnam's feudal dynasties.
Historian Duong Trung Quoc told VOV how much the Temples of Literature mean to Vietnam: "The Mao Dien Temple of Literature and the Hanoi Temple of Literature were the nation's education centers during Vietnam's feudal period. Confucian values have stood the test of time. Educational reforms are needed now in the integration era, but without breaking down traditional values. Hai Duong authorities have made the Mao Dien Temple of Literature a place to honor the Confucianism and modern education and to encourage a love for learning."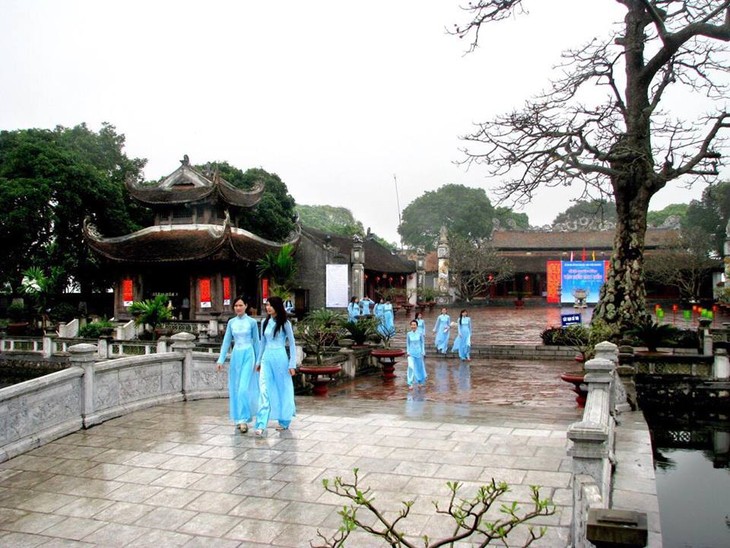 (Photo: baovanhoa.vn)
According to retired teacher Do Anh, recognition of the Mao Dien Temple of Literature as a special national historical relic site demonstrates the respect for learning all Vietnamese people share. Anh said: "Preserving the Temple of Literature means respecting knowledge, intellectuals, and Vietnamese traditions. Old people like me feel happy that the temple has been recognized. I propose organizing history lessons at the temple to help students remember our history."
Mao Dien is one of several temples of literature in Vietnam. It represents the learning tradition not just of Hai Duong residents but of all Vietnamese people.
Nguồn: vovworld.vn