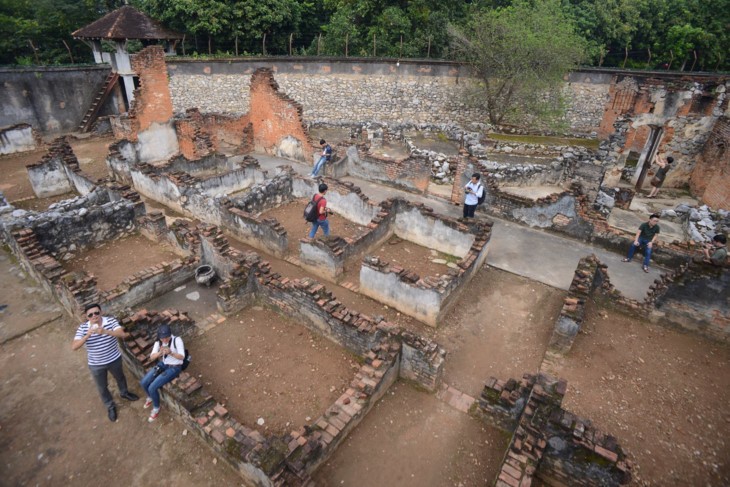 Son La prison is an evidence of French colonialists" brutality.
(Photo: Duc Anh/VOV5)
Son La prison sits atop Khau Ca hill, from which one has a panoramic view of Son La city. Some of the prison's underground and above-ground cells are as small as one square meter. The prison has solid walls of stone and brick, a cement roof, and beds made of stone and cement to which prisoners were attached with fetters. Its design make it hot in summer and cold in winter, and its filthy conditions bred contagious diseases.
The prison, built in 1908 on a 500-square-meter area, was expanded three times to its current 2,000 square meters. Its unofficial name was "Hell on Earth" to describe the frightening brutality of the French colonialists, but it couldn't break the courage and loyalty of the Vietnamese prisoners.
Mai Vi, a former prisoner, told VOV: "I was detained at Son La prison for five years from 1940 to 1945. I received my political training there. I was a writer for "The sound of the stream", a newspaper published by prisoners for prisoners. When I was released, I used the skills I had developed to mobilize the public to contribute to our revolutionary movement. Son La prison was a revolutionary school."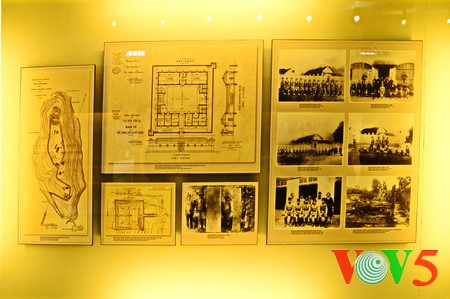 Documents and items kept at Son La prison illustrate the courage and loyalty of Vietnamese communists. (Photo: Duc Anh)
Many undaunted soldiers and Party members were jailed there, including Party General Secretary Truong Chinh, General Secretary Le Duan, army commander Van Tien Dung, and iconic patriot To Hieu. Hieu planted and tended of a peach tree during the last years of his life before he died at Son La prison. The peach tree has become a symbol of the unbending spirit of detained Vietnamese communists. Mr. Vi again: "To Hieu lives forever in the hearts of former Son La prisoners. He always took great care of us to relieve our hardships and fuel our courage."
A branch of Hieu's peach tree was cut and planted at the Ho Chi Minh Mausoleum in Hanoi.
In 1952, after their withdrawal from Son La town, the French colonialists bombarded the prison in an attempt to erase all traces of their brutality. In 1965, US Air Forces bombed Son La again, destroying a part of the prison, which was restored in 1980 and 1994.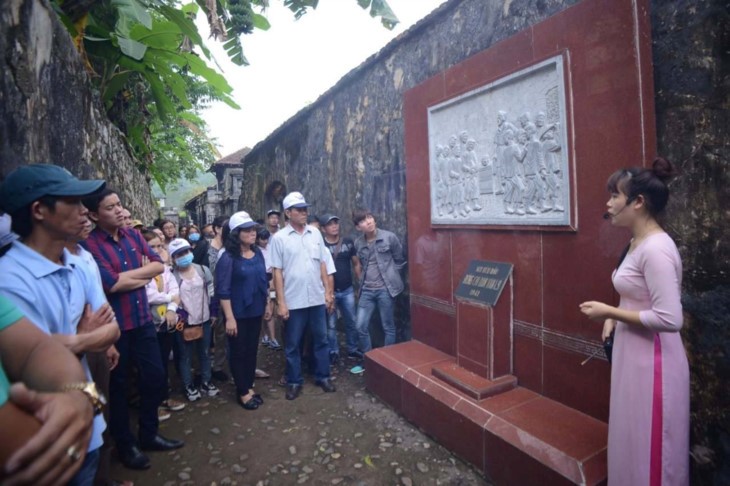 Visitors are introduced to Son La prison"s history. (Photo: Duc Anh/VOV5)
Dinh Huu Duc Tho, a visitor from Danang, said: "I learned about Son La prison, the cradle of Vietnam's revolution, when I was little. This is the first time I've been to the northwestern region and this prison. I want to teach my children about the hardships and sacrifices of our predecessors in the cause of liberation and freedom."
Son La prison was a chapter of Vietnam's glorious history. It welcomes hundreds of thousands of Vietnamese and foreign visitors each year.
Nguồn: vovworld.vn